An unusual detective game, set in the heart of the historic city of Périgueux ! Discover the center of Périgueux with this adventure game, thoughtfully designed for all ages: families, couples, groups of friends, young and old ! It's available from the Greater Périgueux Intercommunal Tourist Office.
Resistance Treasure
Do some detective work around the small streets and squares of historic center Périgueux
🔎 From 1-10 Players
🕜 1hour 30 minutes minimum game time
👟 1.5 km of ground to cover
👨‍👩‍👧‍👦 A game for friends or family
👉 Included in the box:
1 biro + 12 post cards + 1 tote bag with the Périgueux logo
💰 Price : 25 €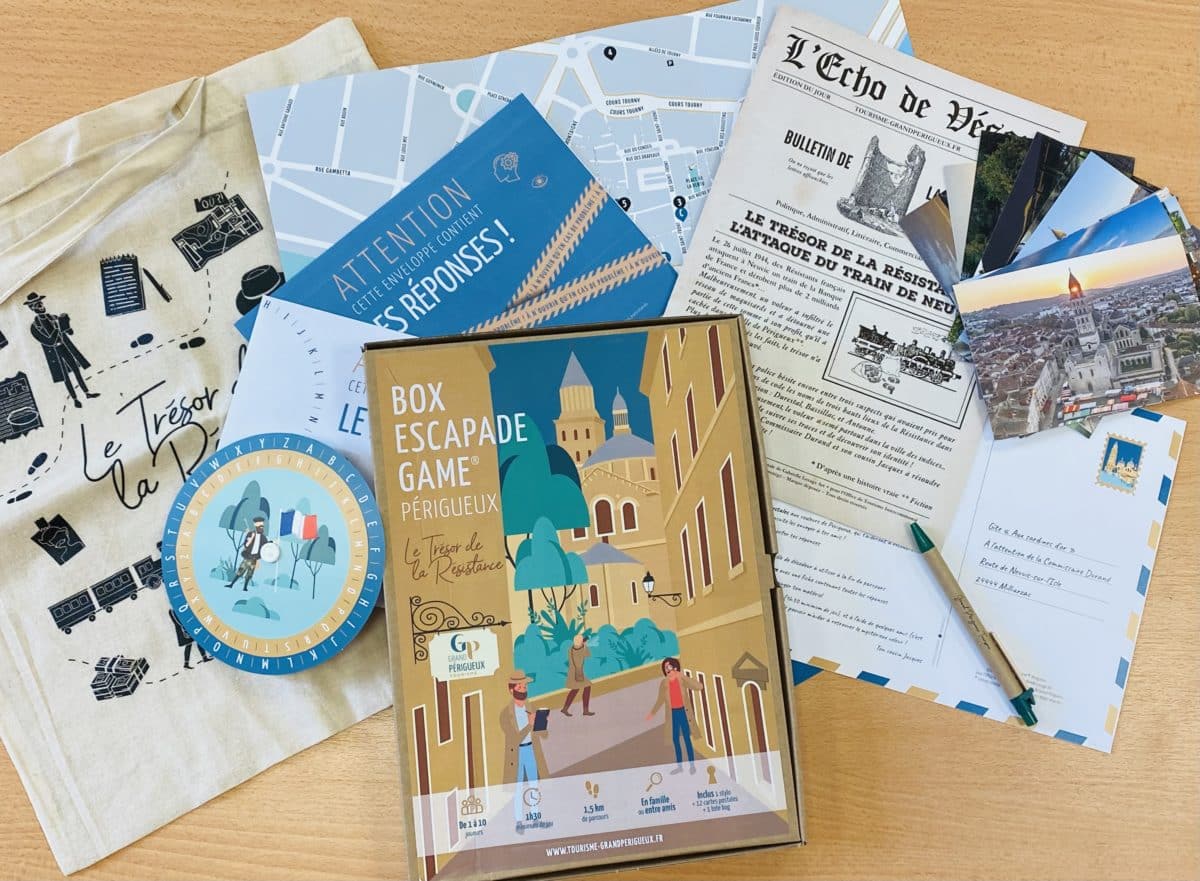 Who's it for?
Would you like to discover the city of Périgueux in an original, independent kind of way? Maybe you know Périgueux like the back of your hand, and love solving riddles? Perhaps you're celebrating a birthday, having a hen or bachelor party, your cousins or your grandchildren are coming to stay with you for a few days, and you want to have a good time together? Then this game is for you
The Plot
Help Commissioner Durand solve the most notorious investigation in the history of the Dordogne Resistance: who stole the millions from the Neuvic train? Inspired by a real event in the Resistance during the Second World War, you'll have to use your imagination to track down the mysterious thief !
How does it work?
With the Périgueux adventure game you'll explore the historic center of Périgueux: it'll take a minimum of one and a half hours, but there's no maximum duration ! Want to have a coffee, stop off at a restaurant or pop into a shop during your investigation? No problem, just pick up where you left off and go at your own pace! You can play at midday or midnight!
No schedules, no appointments, no reservations! You're totally in control of the game and of your own time: cool !
Primarily designed for adults, it can be played alone, as a couple, as a family with children or between friends, and it's suitable for up to 10 people.
Better than an app !
After endless confinements, you've probably had enough of virtual tours and screens ! With this Périgueux-based adventure game, you have real, tangible objects in your hands, envelopes to unseal, and a decoder to help you crack open the clues.
For many people a smartphone app is a cold experience; you'll have none of that here and everyone can play and participate !
What's exactly in the box?
The idea behind this game is to go a little further than traditional games, which are often aimed solely at children.
With this box game, you get real outdoor entertainment, an adventure to share and play together for all ages.
Each box contains: a road book to follow in the thief's footsteps; a map to help you find your way around; a decoder to crack those pesky little clues; a special pen; 12 postcards in the emblematic colours of Périgueux to help you solve the riddles (which you can later write on and send off to your friends and family), and last but not least, a Périgueux tote bag to conveniently keep everything together whilst you play at being a detective!
It sounds really cool, who designed it?
Gabrielle Lesage graduated from the École du Louvre and worked for five years at the Alexis Renard Gallery in Paris before setting up her own tour guide business in Quimper, Brittany. Whilst there, she created unusual tours for the City Arts Museum and the Heritage and Tourist Office, designed to introduce a diverse public to the history of art and architecture.
She still works in partnership with the Alexis Renard Gallery, and creates sensory toursand workshops for corporate clients as well as designing unusual team-building sessions for companies. Now based in Périgueux, she continues to use her passion and skill for developing access to the Périgord region.
Active on social networks, Gabrielle Lesage has a blog on her website where she shares her love of history and culture or 'patrimoine'. Her Perigueux adventure game concept is a recent addition to her many projects from all parts of France.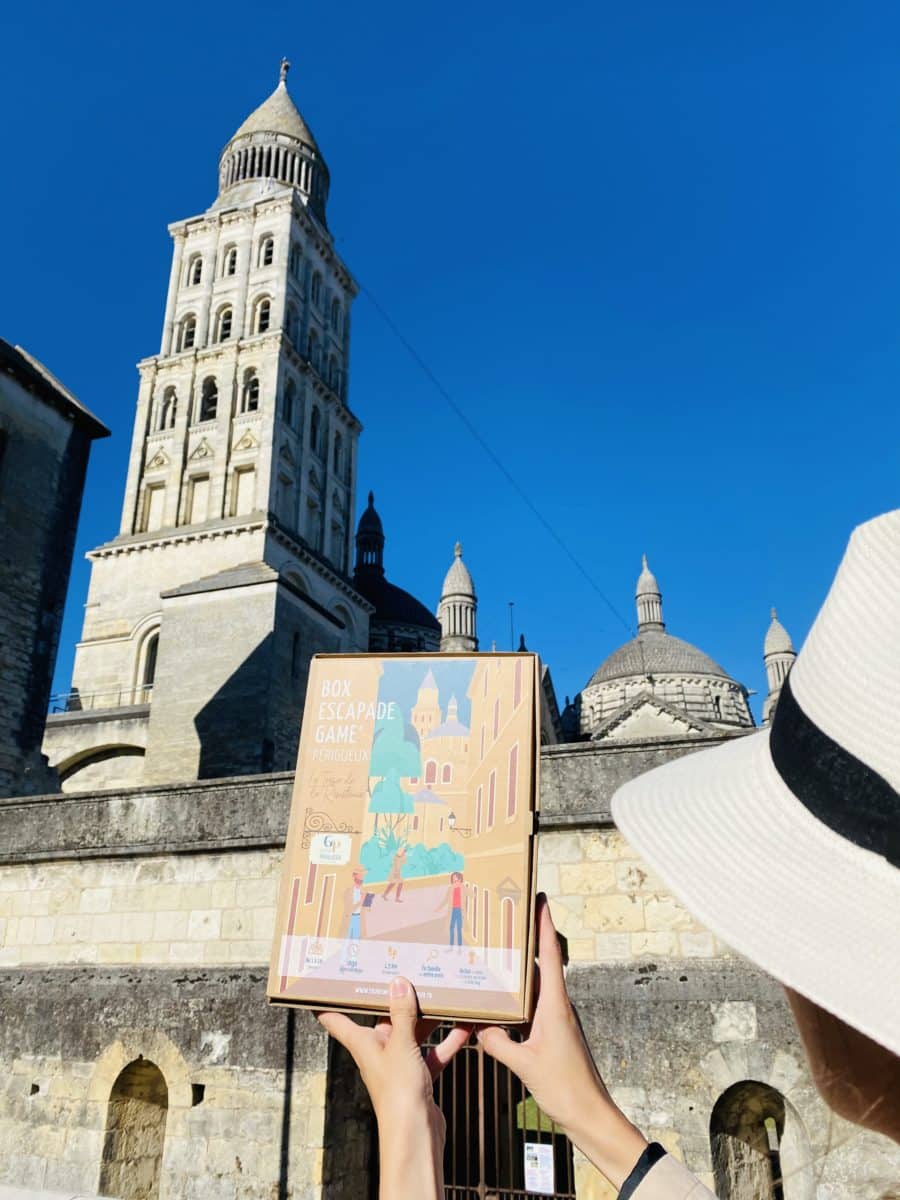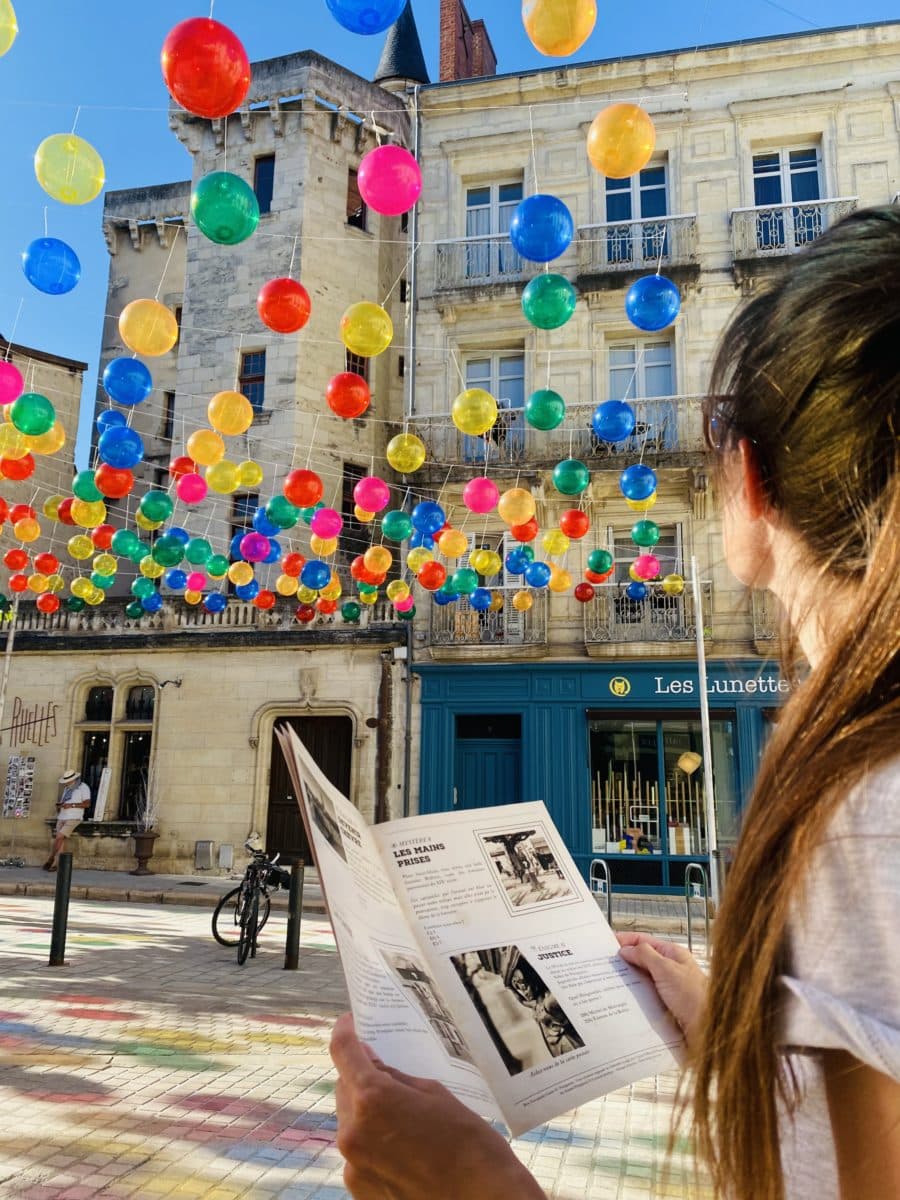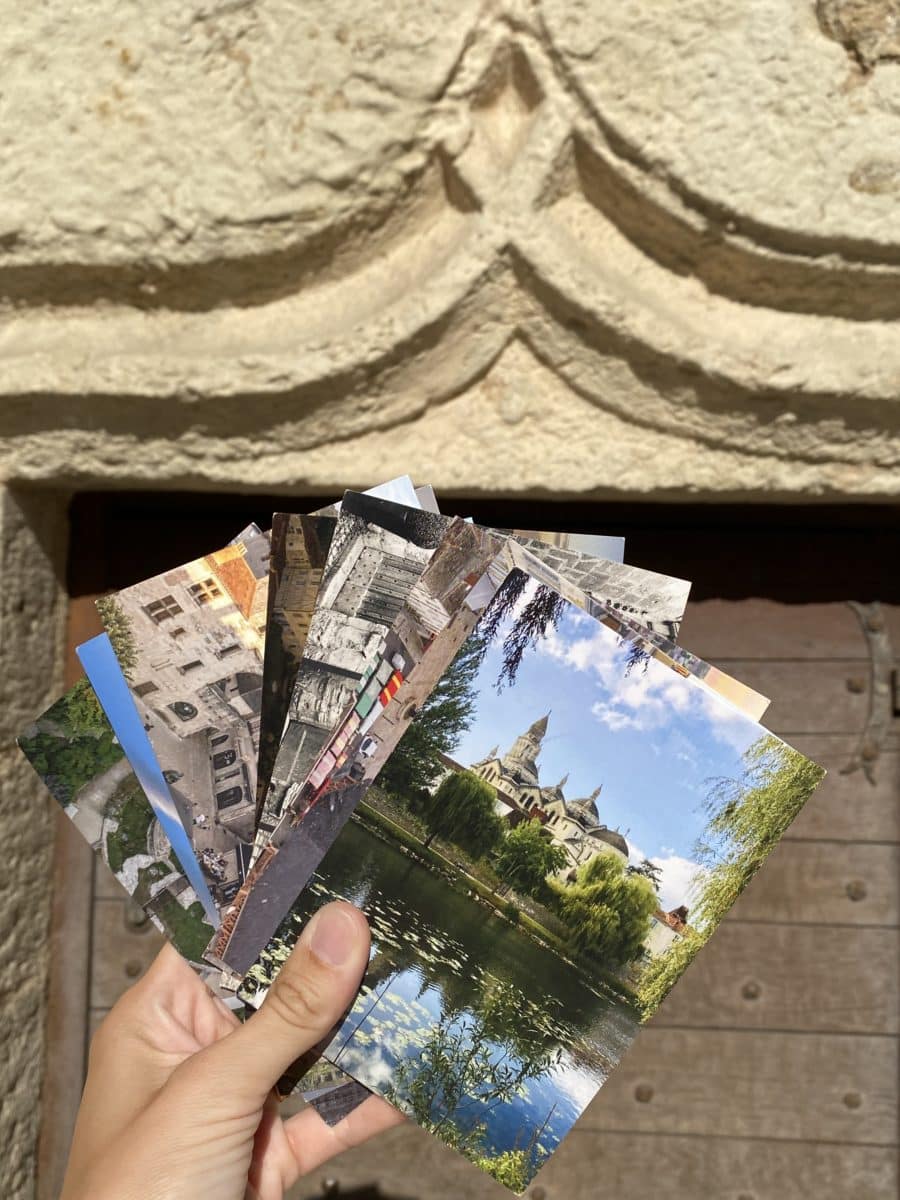 As we're talking about the box game
Where can I buy this awesome game?
Perigueux Adventure Game is on sale at the Tourist Office of Greater Périgueux for 25€ at:
204 Rue Laure Gatet – Lieu-dit Niversac – Saint Laurent sur Manoire – 24330 BOULAZAC ISLE MANOIRE
+33 (0)5 53 53 10 63
You will like also