Welcome to the heart of the Périgord
Here, in Périgueux and less than an hour away, the sites and monuments are so numerous and varied that everyone can take the time to discover them, in a peaceful universe. Here, History and Culture are naturally breathed in the pure air of a changing and preserved nature. Here, the earth is generous and offers its most beautiful jewels to the craftsmen's know-how who transform them into a thousand flavors. Here beats the heart of the Périgord. From North to South and from West to East, from Périgueux, follow us to discover an unknown Périgord, from valleys to castles, from History to modernity, take the time to discover.
And many others !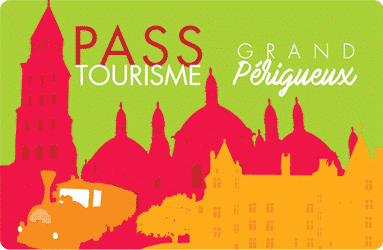 Visit more, spend less!
Valid for 5 days, 10 days or 1 year, this is the essential pass to fully enjoy your stay in Grand Périgueux!
To see also